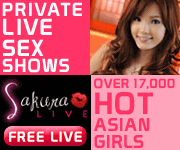 Sakura Live, already a famous brand in Japan and now conquering the rest of the world with their unbelievable choice of live online amateur Japanese webcam girls! Japanese adult webcams are hot and very popular today, and with the recent lauch of Sakura Live, now we all have access to this oriental paradise. Now, you are probably asking yourself, do Japanese girls speak English? Well, not all of them, but don't worry, SakaraLive actually developed a really cool and unique translate feature that enable you to have 100 % control, even if a girl doesn't speak English.
As an American, entering Sakura Live is like entering a whole different, new and exciting world. The whole site layout, their name, their colors and their logo really add something to the whole Japanese atmosphere. I think nowadays Japanese camgirls are popular because in general they will do everything to satisfy you, and the submissive Japanese webcam girls at Sakura Live also gave me that impression.
When I visited Sakura Live, I counted about 80 Japanese girls online, just girls, so no couples, no shemales, no lesbians whatsoever, obviously at this moment Sakura is a amateur Japanese girls only site, but that's ok. The Sakura Live main page is not only very nice, also very easy and clear. You can browse the girls, purchase points (credits) and read the FAQ. The thing I really liked is that you can instantly see which girls are free, which are in "show mode" and which girls are in a private session. You can even see how many viewers a "show mode" webcam girl has, wow that's something new! Show mode is obviously cheaper then a private show,and I rather share my girl with one other viewer then with ten others. If a girl is available you can see a free preview to make sure that girls suits your taste. I also saw something about "control her toy and webcam" but unfortunately I couldn't find it myself, so I really can't say more about it. It sounds awesome though, to be able to control a toy or a webcam with a remote in a private show. This feature really adds something to the whole webcam sex experience! I did test the translate feature, actually it is just a list of common webcam sex phrases such as "give a striptease", "show your pussy", "masturbate for my", "moan for me" etc etc. Just click what you want, and you will see your Japanese girl do whatever you say! Works great and even saves you a lot of time typing, Awesome!
The Sakura Live pricing rates are a little different but actually quite simple. Credits are called "points" and $2,- equals 1 point, but the actual price depends of the particular model and show; a private show will cost you an additional half point per minute more. The cheapest girl I saw charged 0.9 points, so that's  $1,80 per minute, very reasonable, but we also saw a lot of girls who charge 2 points per minute, that's $4,-; a bit expensive. The  webcam quality I saw was excellent bytheway.
For new members there is a really cool try-out: 10 points for only $2,95 , so just find one of the cheaper Japanese webcams and you can have a complete and long enough live sex session for only $2,95 !!!
Conclusion: we think Sakura Live is one of it' s kind, we were impressed when we first visited the site and we do not know any other webcam site that can compete with Sakura when it comes to real amateur Japanese webcam girls. If you are into submissive oriental girls Sakura Live really is a webcam paradise for you. The quality we have tested was really good, pricing is average – high but alternatively, they also have some cheaper options, so in the end, people who like Japanese girls will definitely love Sakura Live, it's a great opportunity to experience real submissive amateur Japanese girls and have webcam sex with them. We think the best feature is the webcam sex trial, for only $2,95 you get $20 worth of credits, and it gives you at least one decent show.
Camquality/options: 4 out of 5
Choice performers/niches: 3 out of 5
Pricing: 3 out of 5
overall rating:3.3
Click here for the hottest Japanese webcam girls at Sakura Live